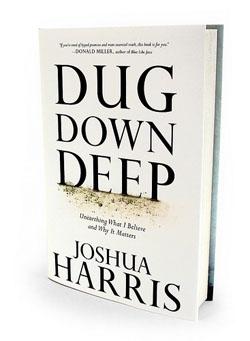 "I've come to learn that theology matters. And it matters not because we want a good grade on a test but because what we know about God shapes the way we think and live… Theology matters, because if we get it wrong, then our whole life will be wrong… We're all theologians. The question is whether what we know about God is true." -Joshua Harris
I got a big beautiful hard back version of this book for my birthday, and even though I don't normally enjoy non-fiction as much as fiction, I loved this book and was enthralled. I found Dug Down Deep to be interesting, necessary, and impacting.
I've been raised in a Christian home. But when I read this book, I was shocked to find out just how much there was that I didn't know or understand. This book almost reminds me of C.S. Lewis's Mere Christianity, for the following reasons: Joshua Harris explains why I believe what I believe, he clears up things that I have not previously understood perfectly, he makes me actually believe the things I say I believe, and he addresses things in a clean-cut understandable way.
Joshua Harris talks about his own life struggles in an honest and relatable way, to address questions like, "Why Jesus? Couldn't someone else have died?" "What's all this about feeling the Holy Spirit? It looks like 'singing songs to the ceiling' to me!" "I've heard a million times that Jesus died on the cross for my sins, but how does that work?"
His narrative is convincing, humorous, and so honest it's like a breath of fresh air. I highly recommend you pick up Dug Down Deep at your local Christian book store, so that it can help you understand doctrine the way it helped me.
-Lee